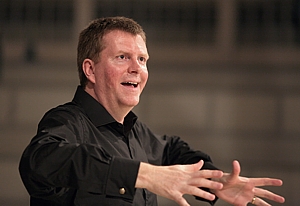 Edward Caswell is a versatile and widely respected choral conductor, singer and teacher. Working throughout the UK and Europe he has established a reputation for approaching choral conducting from a singer's perspective.
2017 saw the publication of his first book, It's always a Pussycat: a singer's approach to choral conducting. Since 2004 Edward has worked with professional choirs, amateur choirs and student choirs throughout Europe, particularly in The Netherlands, Belgium, Germany and France.
In 2013 Edward founded Cromarty Youth Opera in his home in Scotland and in August 2016 he led the company in their fourth fully staged opera, Dido and Aeneas by Henry Purcell.
Edward was Director of The Wordsworth Singers from 2007 to 2009, during which he conducted them in a performance at the Lake District Summer Music Festival, and on a concert tour to Northumberland and Lindisfarne.
---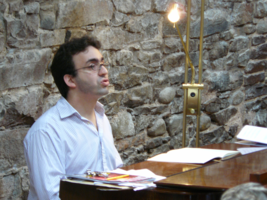 James Grossmith is Chorus Master of the Royal Swedish Opera in Stockholm.
Before taking up this post in 2014, he was based in Glasgow for thirteen years, during which he completed postgraduate conducting and repetiteur studies at the RSAMD, was Chorus Master for Scottish Opera between 2006 and 2014, and conducted performances by, among others, the State Hermitage Orchestra of St Petersburg, London Sinfonietta, BBC Scottish Symphony Orchestra and Edinburgh Festival Chorus. For many years he was also Director of Chapel Music at the University of Glasgow.
From 2004 to 2006 James was Director of The Wordsworth Singers and conducted them in a cappella concerts and several larger-scale performances with orchestra, including Handel Messiah and Israel in Egypt and Bach Christmas Oratorio. In 2006 he led the choir on tour to Lithuania and Latvia.
---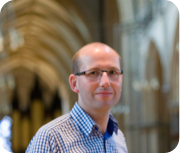 Charles Harrison combines a career as a solo and ensemble player with the post of Organist and Master of the Choristers at Chichester Cathedral, where he directs one of Britain's most highly respected choirs
Charles was assistant organist of Carlisle Cathedral for four years from 1995 and, with Michael Hancock, is a Founder Conductor of The Wordsworth Singers, having jointly led the choir for seven years. He continues to work with the choir from time to time as conductor and accompanist.
Michael Hancock enjoys a hugely varied musical career. Since graduating from the Northern School of Music in 1972 he has performed all over the UK and in many foreign parts as a pianist, singer and conductor.
As an accompanist and chamber music player he has partnered many eminent musicians such as April Cantelo, Christopher Underwood, Joan Rodgers, Martin Milner, Janet Hilton, Julian Lloyd Webber, Willard White, Laurence Perkins and John Turner. He has served on the staff of the Royal Northern College and Chethams and has performed in many prestigious venues like the Purcell Room, the Wigmore Hall and the London Palladium. Michael has many commercial recordings to his credit, including discs for Hyperion, Pickwick and Campion. He has broadcast for Radios 1, 2, 3 and 4 as well as Classic FM and there have been numerous TV appearances.
Along with Charles Harrison, Michael is a Founder Conductor of the Wordsworth Singers, a post he held for seven years, and he is currently their President. A much sought-after teacher of piano and singing, Michael also finds time to adjudicate Music Festivals and he is an Examiner for ABRSM, for whom he also acts as a trainer and moderator. Examining tours have taken him all over the world including Iceland, Malaysia, the Middle East, Turkey, Brunei, Hong Kong, China, Singapore, Spain, the Caribbean, Greece, USA, Canada and the Seychelles.
Michael also acted as vocal coach to the choir of Carlisle Cathedral from 1991 to 2010. In July 2007 he conducted the opening concert of the Carlisle International Summer Festival with the Festival Chorus, the Northern Sinfonia and daughter Emma playing the Beethoven Violin Concerto.
---